Endeavor Selects 22 Entrepreneurs from Eight Countries at the 77th International Selection Panel in Dubai
DUBAI – February 23, 2017 – Endeavor selected 22 entrepreneurs leading 14 companies from 8 countries at the 77th International Selection Panel (ISP) in Dubai, including MENA ride-hailing leader Careem. Endeavor now supports 1,621 entrepreneurs leading 1,014 companies in 30 growth markets around the world.
Panelists at the event, held February 20-22, 2018, in Dubai and hosted by Endeavor UAE, included top business leaders and investors from the MENA region and around the world who were drawn from Endeavor's extensive network of board members, mentors, and supporters.
The ISP is the culmination of a rigorous multi-step selection process to identify innovative and driven entrepreneurs who are committed to advancing an ecosystem of entrepreneurship.
"The Dubai selection panel provided a fantastic opportunity to bring the Endeavor network and entrepreneurs together in one of the fastest growing cities and entrepreneurship ecosystems in the world," said Endeavor co-founder and CEO Linda Rottenberg. "This ISP truly convened some of the most promising talent in the region, and beyond. We're excited to welcome new Endeavor Entrepreneurs from MENA, Africa, Europe, Asia and Latin America!"
At the Dubai ISP panelists from around the world interviewed entrepreneur candidates about their businesses, evaluating them on their potential for high-impact growth, and then deliberated on which candidates should be selected to become Endeavor Entrepreneurs. Once selected, Endeavor Entrepreneurs gain access to comprehensive customized services, including introductions to local and international business mentors and volunteers from Fortune 500 consulting firms who will help them address key needs.
Endeavor Entrepreneurs have had a significant track record of creating hundreds of thousands of jobs, generating billions of dollars in revenues, and building sustainable growth models in their home countries.
Endeavor will host ISPs in 2018 in Manila (April 4-6), Louisville (May 7-9), Milan (June 27-29), Detroit (July 30-August 1), Buenos Aires (September 5-7), Athens (October 24-26) and Cape Town (December 5-7). Learn more about the companies and entrepreneurs selected below.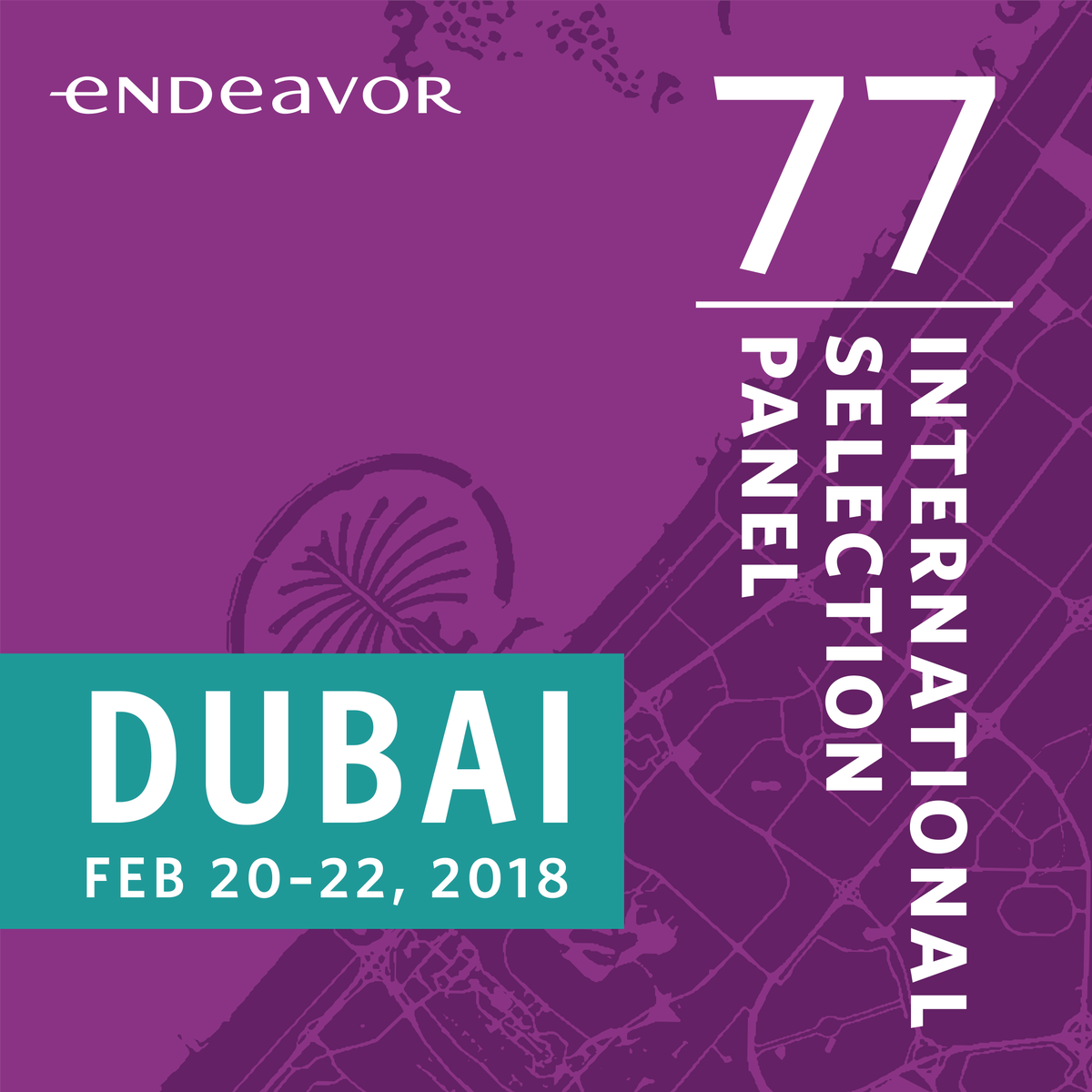 ARGENTINA
Entrepreneurs: Nicolas Grosman and Matias Andres Grosman
Company: Tecnovax Laboratories
Description: Tecnovax develops and manufactures innovative biological products for the prevention and eradication of infectious diseases in animals, yielding higher livestock output,reproduction, and longevity. Today, the company leads the Argentine vaccine market as the largest national producer of vaccines for livestock, the only national producer of vaccines for dogs and one of the few laboratories in the world that produces vaccines for salmonids. Its 30+ vaccine formulations are registered and exported to 15 countries around the world, figuring prominently in the $5B+ global veterinary vaccine market.
ECUADOR
Entrepreneurs: Ronald Nankervis and Sebastián Muller
Company: ARS del Ecuador – Grupo Aros
Description: Grupo ARS is a leading firm in credit recovery processes and purchase of distressed credit portfolios for banks, financial institutions and corporations. It provides innovative solutions to these institutional clients, while working closely with individual debtors to develop new repayment plans and ultimately reintegrate them into the financial system.
INDONESIA
Entrepreneur: Irzan Raditya  
Company: Kata.ai
Description: Kata.ai offers a platform that allows enterprises to easily build and deploy chatbots in Bahasa Indonesian. These chatbots—computer programs that simulate human-like speech—can perform conversational activities with customers ranging from handling FAQs, completing sales transactions, marketing products, and gathering data about consumer behavior. At the forefront of AI and Natural Language Processing (NLP) technology in Indonesia, Kata.ai's clients include Unilever, Telkomsel (Indonesia's largest telco), Bank BRI (one of Indonesia's largest banks), among others.
JORDAN
Entrepreneur: Rami J. Saheb
Company: Al Hadaf Intl Company for Importing and Industry "RZ"
Description: From serving hospitals and restaurants to hypermarkets and households, Jordan-based RZ is a leading manufacturer and supplier of food packaging, disposables, and catering supplies in the region; with SKUs exceeding 2000, over 50% market share in Jordan and exports to 17 countries including globally.
Entrepreneurs: Hanan Khader
Company: Hello World Kids
Description: Hello World Kids provides schools with the training and curriculum to effectively teach students ages 4 – 12 coding skills. By packaging its books, training and curriculum, HWK enables public and private schools to provide a full coding class alongside other subjects throughout the academic year. In addition to learning the basics of coding, computer skills and logic, students go through six levels of the HWK curriculum to learn web, mobile and gaming development, and become proficient programmers in Java, python, HTML5, Javascript. With over 100 schools using its curriculum, HWK reaches more than 40,000 students and recently signed an agreement with the Jordanian Ministry of Education and Crown Prince Foundation to become the coding curriculum of choice in 85 more public school by 2018.
Entrepreneurs: Rama Kayyali, Salwa Katkuda and Lamia Tabbaa
Company: Little Thinking Minds
Description: As a language that unites 400M native speakers globally, Arabic is one of the world's oldest languages and the second most difficult to learn. While children are exposed to Arabic colloquially at home, the classical form they encounter in school is vastly different, making it harder for schools to teach effectively. To solve this, Little Thinking Minds (LTM) creates engaging, self-paced, and digitized content for schools and at-home users aimed to improve Arabic literacy. On its portals, students receive a unique username to access teacher-assigned reading material, comprehension tests, virtual grammar tutorials, and educational games all tailored to each user's proficiency level.
SPAIN
Entrepreneur: Javier de la Torre
Company: CARTO
Description: Businesses all over the world are sitting on goldmines of location data but don't know how to extract insights from it. Carto's visualization technology turns location data into valuable business intelligence that allows companies to make smarter decisions. It's self-service, drag-and-drop web platform, Carto Builder, is simple enough for any data analyst to use, eliminating the need for a dedicated graphic information systems (GIS) specialist. Similarly, the Carto Engine enables clients to easily embed location data visualizations into their own products.
Entrepreneur: Enrique Bretos
Company: PISAMONAS
Description: Pisamonas is a Spanish kids' footwear brand that combines great design and affordable prices. Pisamonas sells primarily direct-to-consumer online and offers free delivery and free exchanges to six different markets: Spain, Portugal, France, UK, Italy, and China. The company also runs four brick-and-mortar stores in Spain and is looking to expand its offline presence in the country.
SOUTH AFRICA
Entrepreneurs: Thomas Pays, Mitchan Adams and Lyle Eckstein
Company: i-Pay
Description: i-Pay is a world-class payments infrastructure for the South African and Nigerian economy. It gives consumers, businesses and government sectors a platform to make fast, secure and data-rich payments to meet the evolving needs of a 24/7 digital economy. It's a platform that enables a real-time bank to bank payment, between two people or between many. It can simplify payments through a single API integration into i-Pay, as well as offer the ability to include more information with payments, such as text or links to externally hosted documents. The i-Pay payments platform enables innovators to develop and offer an overlay service or product, helping more consumers and businesses to realise the benefits of faster, data-rich payments and i-Pay's simple API service integrated in all major banks in South Africa, Nigeria and soon to be in other international markets.
Entrepreneur: Andrew Weinberg
Company: Retail Engage
Description: Low income South Africans who live in rural provinces typically shop at nearby independent retail stores making it difficult for multinational consumer goods and services brands to target them directly. Consequently, these brands have little insight into the purchasing behavior of ~60% of the country's population. Retail Engage, under the brand bonsella®, offers brands both a customized in-store promotion campaign and targeted customer data by giving independent retailers a free turnkey rewards program that provides customers mobile credit for purchasing promoted products. To date, bonsella® has amassed 416,500 members, 10 brand clients, and is in 22 independent retailers.
TUNISIA
Entrepreneur: Karim Jouini
Company: Expensya
Description: Expensya is an expense management solution that's disrupting the way businesses process receipts. Its mobile oriented solution is based on next generation character recognition technology (OCR+) and machine learning, saving employees over 4 hours of manual logging a month and increasing accuracy.
UAE
Entrepreneur: Ulugbek Yuldashev
Company: AWOK
Description: In densely populated metropolitan areas such as Dubai, unbranded and cheap products are only sold in city outskirts, far from low income consumers. AWOK.com caters this underserved market –75% of UAE's population– by offering over 70,000 cheap, good quality products across 30+ categories. With guaranteed delivery within 12-48 hours and multiple payment such as online or cash-on-delivery, AWOK has quickly become one of the leading online shopping destinations in UAE, attracting approximately 13 million visitors per month.
Entrepreneurs: Abdulla Elyas, Magnus Olsson and Mudassir Sheikha
Company: Careem
Description: When it comes to entrepreneurship in the UAE,ride-hailing service Careem is in the driver's seat. Public transportation in the Middle East is either synonymous with unreliability or simply doesn't exist. Drivers often show up late, get lost en route, haggle overrates, and make customers pay in cash. Careem, meaning "generous" in Arabic, is MENA's #1 car booking app for safe,reliable, and affordable transportation. Operating in a MENA transportation market worth ~$12 billion, the company has established a footprint in over 80 cities and 13 countries and has seen its revenues and trips grow steadily at 20-30% since creation.
Entrepreneur: Moustafa Mahmoud
Company: Cognitev
Description: Cognitev is the Middle East's first and only Artificial Intelligence marketing platform. The company's automated engine helps advertising agencies and small businesses target and acquire customers to their websites using semantic marketing and machine-learning algorithms. Launched in 2015, Cognitev has grown exponentially to service 100+ clients around the world mount effortless digital marketing campaigns at the push of a button.